There is so much information about skin, how to care for it and what exactly an ideal skincare routine should look like, and this can make it difficult to decipher what to do for your skin type. It doesn't matter whether your skin is dry or oily, we all want skincare that feels lovely to use and that makes a visible difference. Sometimes, however, mixing multiple ingredients can leave skin feeling stressed, which is why there's been a huge uptake in clean beauty recently. And one of the best new, all-natural beauty collections to hit shelves comes courtesy of Neom, who has devised a series of brilliant, essential oil-based products that will help you piece together your perfect skincare routine while being gentle to skin, leaving you with a radiant and restored complexion. And forget what you thought you knew about essential oils, too – these delicious fragrances will give you new peace of mind without overwhelming you or leaving a too-strong, lingering scent.
Designed to suit every skincare need, there are two new skincare ranges to choose from, including the Ultimate Calm range, packed with essential oils such as lavender, geranium and rose to soothe and calm. There's also the Great Day Glow range, which uses mandarin, rose and peppermint essential oils to reduce the appearance of pores and promote a natural glow. These are both follow-ups to the Perfect Night's Sleep range, launched last year, which includes a rich, luxurious cleansing balm and nourishing face oil to restore skin cells overnight.
So, what do essential oils actually do for your skin? And how do you make sure your skin is at its very best, each and every day? Nicola Elliott, founder and creative director of Neom, has some answers for all of our burning questions.
Should I Use Essential Oils In My Skincare Routine?
Most essential oils are rich in antioxidants and also have anti-inflammatory, hydrating benefits to skin. They're also versatile, as Elliott explains: 'essential oils can be used in many different ways and your skin can benefit at every stage – cleansing, moisturising, treating – you can even inhale them by cupping your hands around your nose and taking deep breaths to get an emotional boost too.' Indeed, lavender oil is often recommended to help with stress or anxiety, while rose oil can help minimise the appearance of scars, as well as mild forms of skin conditions like psoriasis.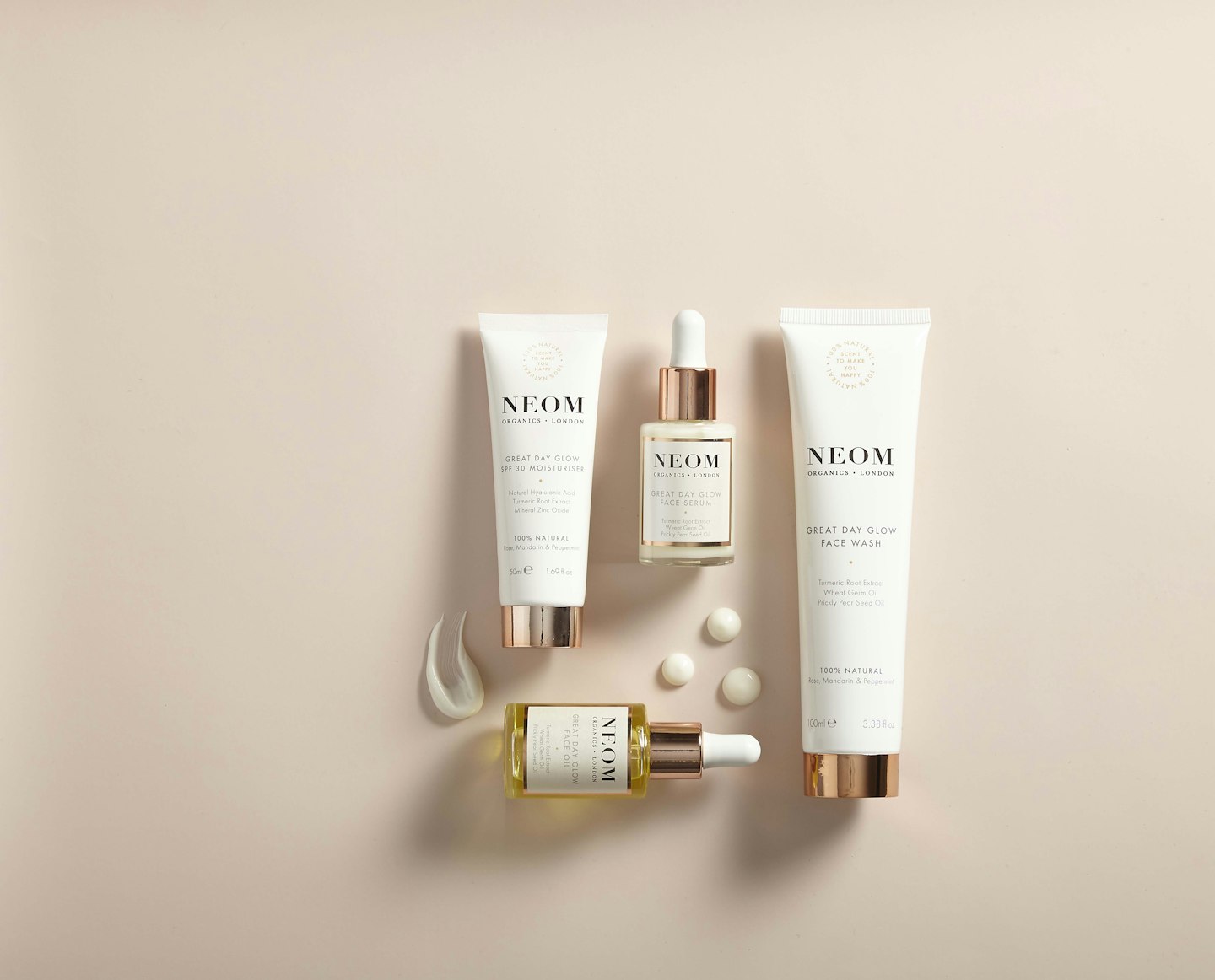 What's The Difference Between Natural And Synthetic Skincare?
Natural skincare is made up of naturally occurring ingredients, derived from natural sources, whereas synthetic skincare is made up of chemically derived ingredients.
Should My Skincare Routine Be Tailored To My Lifestyle?
Definitely, says Elliott: 'There's no one size fits all approach to skincare and modern life has a massive effect on our skin. Whether you're experiencing late nights, stuck inside all day with no sunlight or going through a stressful time, it will take its toll on your skin.'
Similarly, Emine Rushton, a holistic therapist, says: 'Our skin changes from day to day, let alone season to season, and so it's important that we get to know it as well as we can. Skin is responsive, intuitive, delicate and intelligent.' Given that our skin is, in fact, the body's largest organ, it makes sense that you would dedicate time to developing a skincare routine that really works for you and the life that you lead on a daily basis.
Luckily, Neom offers its Personal Skincare Finder, which will allow you to select the products that will suit your skin perfectly, thus helping you to build a flawless skincare routine. Simply answer a few questions about your lifestyle and let the experts do the rest.
What Skincare Is Good For Stressed Skin?
Look for ingredients with soothing properties. Baobab oil, for example, is nutrient-rich, moisturising and full of anti-inflammatory properties that revitalise and rejuvenate the skin to help it look smooth and soft. It's one of the hero ingredients in Neom's Ultimate Calm range, too. A lot of essential oils' power lies in their smell – while this is strong enough to have a positive effect on your mindset, Neom's products aren't overwhelming, as much scented skincare can be.
What Skincare is Good For Tired Skin?
Rose essential oil contains a complex array of vitamins, minerals, and antioxidants and has excellent emollient properties for moisturising dry skin, while lavender promises calming and soothing properties for both the skin and the mind.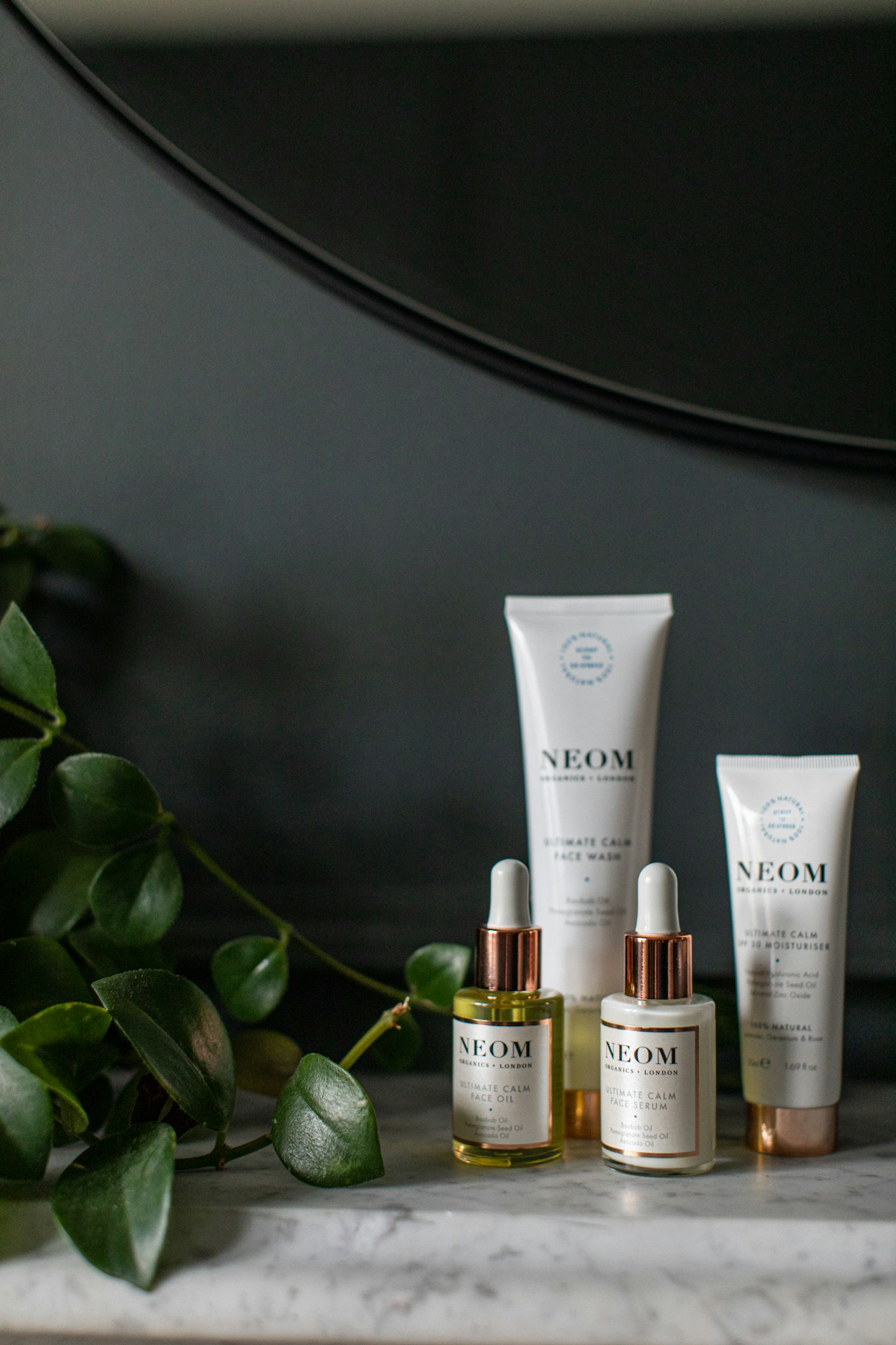 What Skincare Is Good For Dull Skin?
Prickly pear seed oil has become a much-hyped ingredient recently – and for good reason. It's a hard-working multi-tasker, offering major hydration. It combines fatty acids with minerals and vitamins, including vitamin K – known for boosting skin elasticity and brightening.
It's also packed with complex carbohydrates that help stimulate the skin's enzymes and encourage natural exfoliation, effectively helping to get rid of dead skin cells that cause your skin to look tired and dull.
What Skincare Is Good For Dry Skin?
Did you know that there's even a natural form of hyaluronic acid, derived from wheat, corn and yeast? It works to keep collagen synthesis up, as well as retaining skin moisture, meaning it will keep skin looking fresh. It has the ability to replenish moisture (crucial to having younger-looking, supple skin) and revitalises the skin's outer layers so they look and feel softer, smoother and – crucially – hydrated.
How Many Steps Should My Skincare Routine Include?
Forget 10-step routines that incorporate thousands of products and instead focus on what works for you. 'I would say just as many as you have time for. I keep mine super simple in the morning because I'm usually in a mad rush, but in the evening I'll add in some extra steps', says Elliott. If you're using effective products that really work, you might find that you need fewer steps in your routine anyway.
Delphine Chui, skincare obsessive and co-founder of beauty blog F-Toxins says, 'In the morning, I'll refresh my face with a toner before putting on a moisturiser underneath any makeup. At night, I'll use an eye make-up remover before cleansing my face with a konjac sponge. Then, I'll put on a hyaluronic serum before applying a 24-hour moisturising face cream and maybe put on a facial oil afterwards for extra moisture.'
If you're looking to perfect your own routine, Neom is offering Grazia readers the opportunity to get three products for the price of two, valid throughout September. Just enter the code Grazia342 at the checkout when buying any of the products from the three skin ranges. See below for terms and conditions* and maybe start preparing yourself for the best skin of your life...
SHOP: Neom's New Natural Products That Will Help You Build The Perfect Skincare Routine
Neom Skincare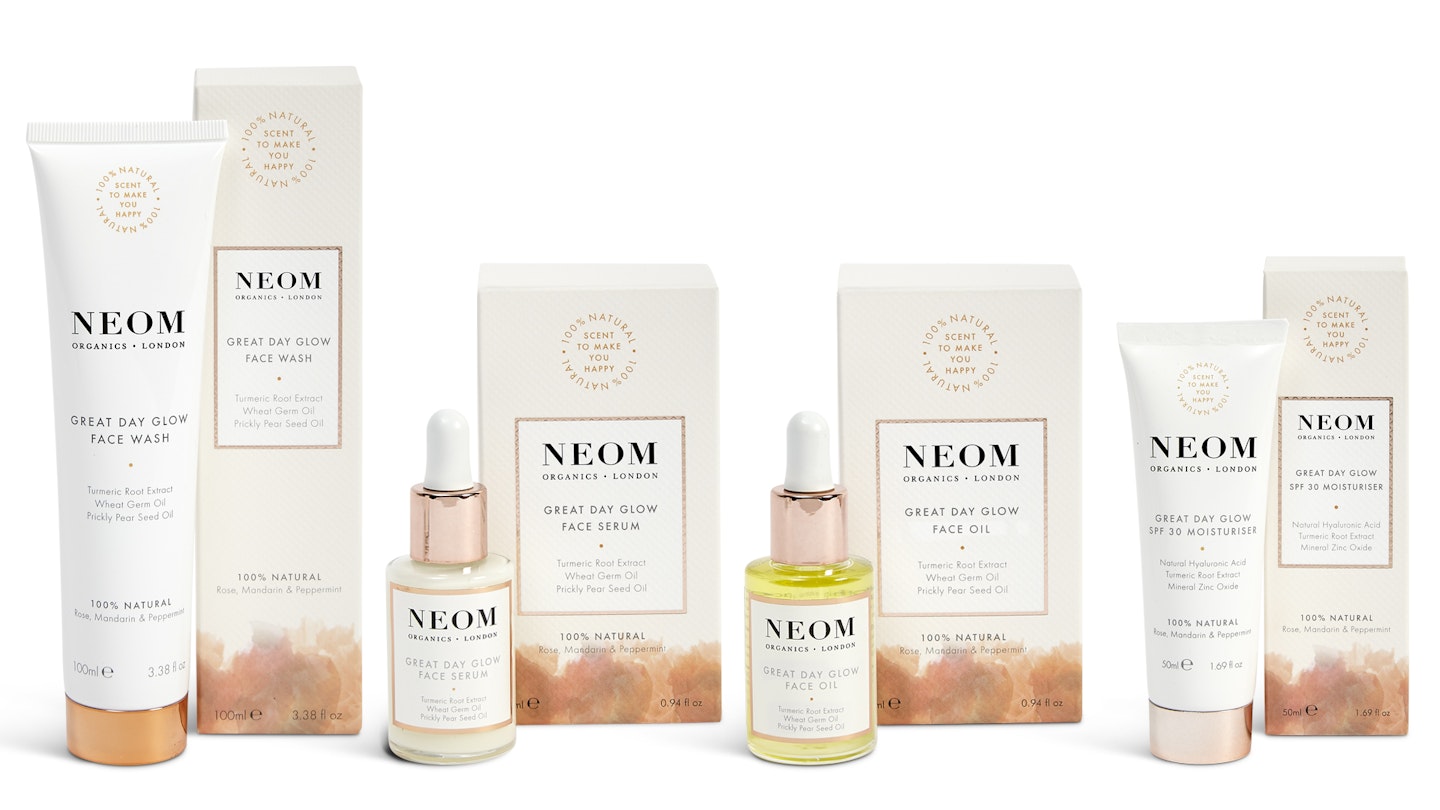 1 of 2
Neom's Great Day Glow Skincare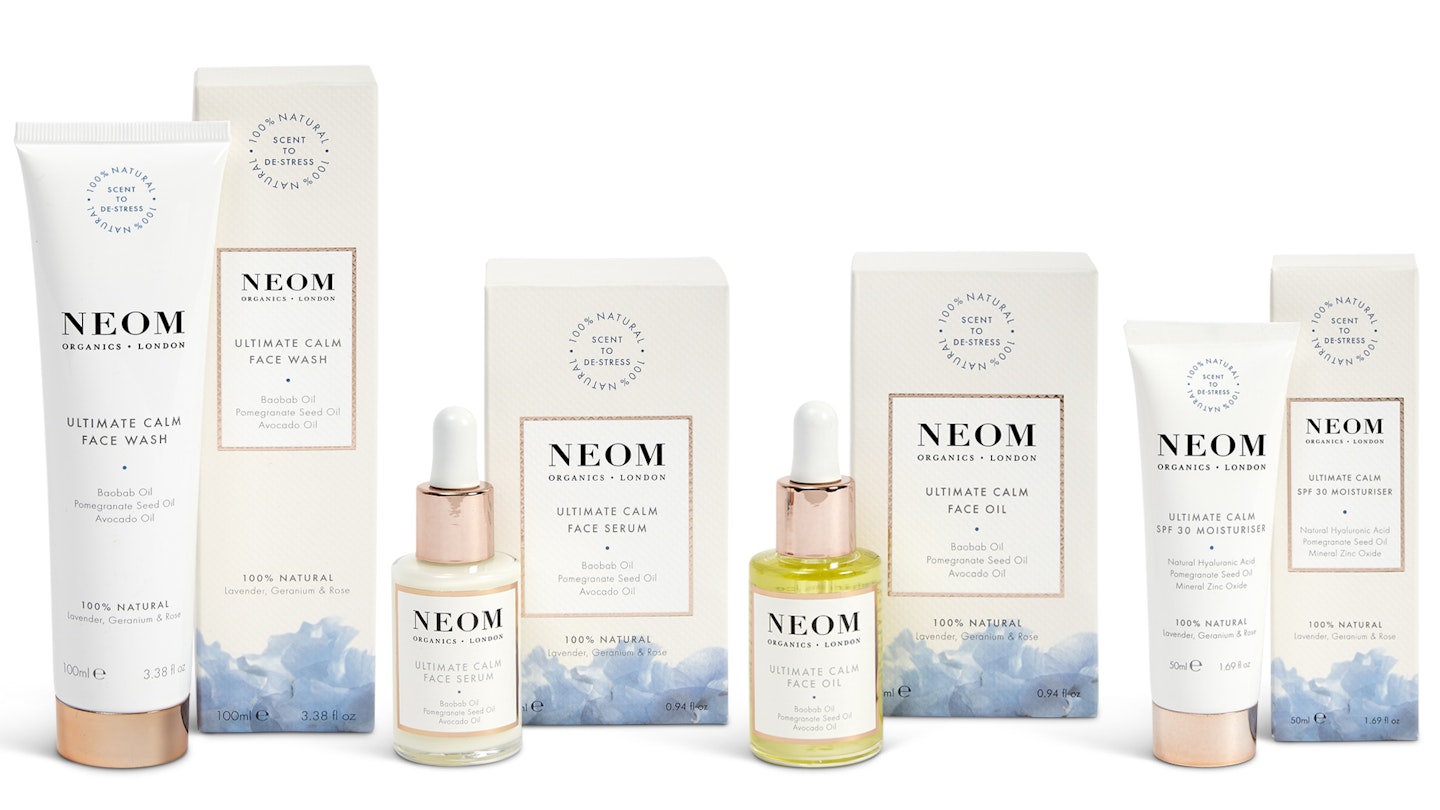 2 of 2
Neom's Ultra Calm Skincare
*Grazia342 code must be entered at basket page to redeem offer of 3 for 2 (3 items for the price of 2 items) valid only on full priced single products in our Great Day Glow, Ultimate Calm and Perfect Night's Sleep skincare ranges. Only the cheapest item will be free. The offer is valid until Monday 30th September 2019. Use code Grazia342 in the basket page to apply the discount. Postage does not count towards basket total. Discount cannot be redeemed for cash. No price adjustments or partial reimbursements will be made on previous purchases. Offer of free standard shipping on baskets over £40 automatically applied in the basket. Cannot be used in conjunction with any other offer code. Offer available exclusively online at neomorganics.com