There's no doubt that holistic beauty practices are gaining traction in the mainstream. Whether it's down to the fact that we're a generation continually looking for escapism from today's unstable economic climate, political unrest and worldwide environmental issues— the wellness industry is currently booming. From CBD facials to crystal-infused water bottles, there's no denying that the once 'woo woo' practices of Gwyneth Paltrow are now not just mainstream – they're big business.
But the latest trend to make its journey from L.A to London is a little different. Let me introduce you to 'Ear Seeds'. Penélope Cruz and Kate Moss are apparently fans, but what on earth are they – and do they work?
Vie Healing's 24k Gold Ear Seeds, £29, launched on Cult Beauty earlier this year, promising to help alleviate stress, boost energy and promote a sense of calm and relaxation. Think reflexology meets acupuncture: tiny gold-plated 'seeds' are placed on certain energetic points of the ear, creating a continuous, long-lasting but pain-free compression. Unlike acupuncture, they're perfect for needle-phobes.
Sounds bizarre. It turns out, however, that the practice of auriculotherapy – as it's known – has been around for years in Traditional Chinese Medicine. It's similar to reflexology, in that it works on the principle that certain areas of the ears mirror the entire body— and by stimulating these different zones, you can influence the corresponding organ or body part, aiding the natural healing process.
When it comes to holistic beauty practices, and anything to do with energy flow, frequencies and Chinese Medicine, I always reach out to Marie Reynolds, wellness and skin expert, whose knowledge of all things holistic truly baffles me. (Honestly, follow her on Instagram @mariereynolds_london— she's a genius.) 'In Traditional Chinese Medicine, the ears can reflect everything from kidney energy, circulation, digestive issues and specific organ and cellular functions,' she says.
I asked Marie if she believed the Ear Seeds could really work in de-stressing and boosting my energy levels? 'I would certainly say they could help with energetic blockages that could be causing certain conditions, most definitely.'
With this reassurance, I decided to give them a go. Vie Healing's Ear Seeds come complete with a handy guide, showing the specific areas of the ear that reflect certain areas of the body. Liv Inge, a London-based acupuncturist (who has a BSc with Hons in Chinese Medicine and Acupuncture) recommends the best way to feel results with ear seeds is to have a diagnosis from a fully insured, degree-level acupuncturist beforehand. This way, your acupuncturist can take a detailed medical history which covers all your systems from the nature of your sleep to diet and your menstruation cycle, before then tailoring a treatment plan for your specific needs.
If, however – like me – you simply want to try them out without visiting an acupuncturist first, there's a handy guide of where to place the seeds for differing remedies included in the Vie Healing pack which include: Calm, Happy, Detox and Pain.
I went with Calm — I'd been feeling stressed and a little anxious recently, so applied the seeds to the points where the card suggested. They're easy enough to apply, each pack contains 20 gold-plated ion seeds surrounded by a clear sticker. All you need to do is peel them off the card and place them onto your ear… and I found that they lasted for a good week without falling off.
A couple of days in, I didn't find myself feeling particularly different. I was still stressed, but I was sleeping better, and in times of anxiety I found myself gently pressing on the ear seeds— willing them to work. A week or so later, having pretty much forgotten I was even wearing them, I did feel much less stressed and hadn't been feeling as anxious. Whether or not this was down to the Ear Seeds is of course arguable, but I'd like to think they helped.
A few weeks later, I decided to give them a go again— this time, applying them in the 'Happy' points on the diagram. This time, I definitely found myself having a pretty great week. Of course, it's hard to definitively put anything truly down to holistic methods, and there will always be sceptics, but all I know is, during that week, I felt energised and optimistic.
SHOP: Vie Healing, 24K Gold Ear Seeds, £29
Ear Seeds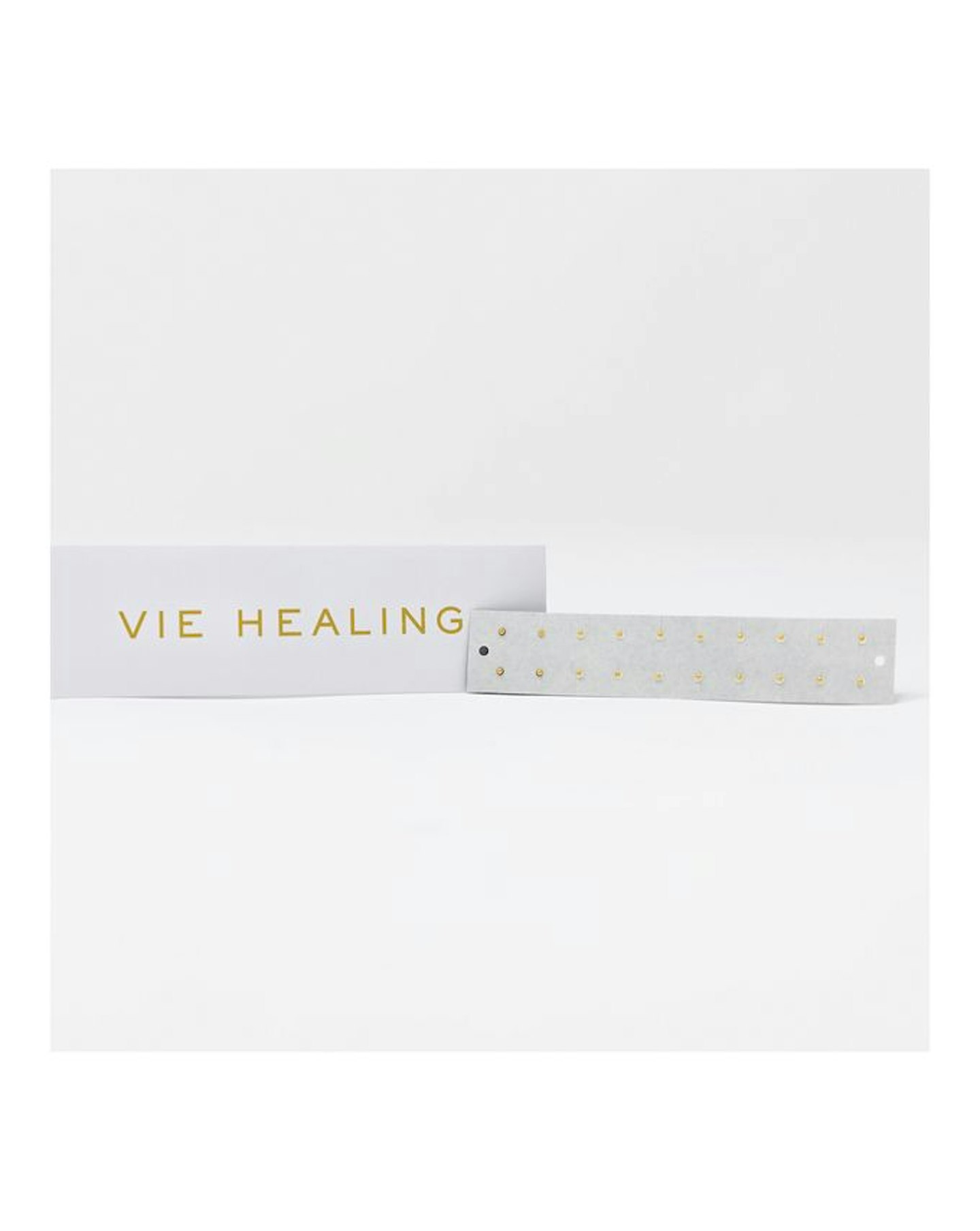 1 of 1
Vie Healing, 24K Gold Ear Seeds, £29