Could Winnie Harlow be Beyoncé's biggest fan? It's 9:30am and Lemonade is playing in the background for the second time today as she makes breakfast. 'This is my favourite bit!' Winnie squeals to her assistant as she throws her hands up and sings along - word-perfect.
It's a surreal scene, given that the 22-year-old was personally chosen by Beyoncé to star in the film for her explosive visual album, released amid much fanfare earlier this year. After she initially declined the invitation (the project was so shrouded in secrecy she had no idea Beyoncé was behind it), the singer's assistant eventually got in touch to inform her Queen Bey had personally summoned her. She duly flew to New Orleans where she found herself on set with Serena Williams, Zendaya and Beyoncé's daughter Blue Ivy.
'I think we were all there because of the same thing,' says Winnie. 'She wanted strong women in her film. Strong black women.'
It's not hard to see why Winnie fits the bill. After being diagnosed with the skin pigment condition vitiligo as a child, she has gone on to become one of the most ground-breaking models of the decade. Alongside her fashion career, she's given a TED talk, a presentation at the Dove Self-Esteem Project panel, spoken movingly in a YouTube video about life with the condition, and has received countless accolades as the woman who is single-handedly changing the face of fashion. But such labels don't always sit comfortably.
'I'm breaking boundaries,' she admits. 'But I definitely don't want to be called a role model. I'm just me. I live every day as myself. I make mistakes, I swear a lot. I'm just a young woman living my life, and if people find something in that that's inspirational, then I'm happy.'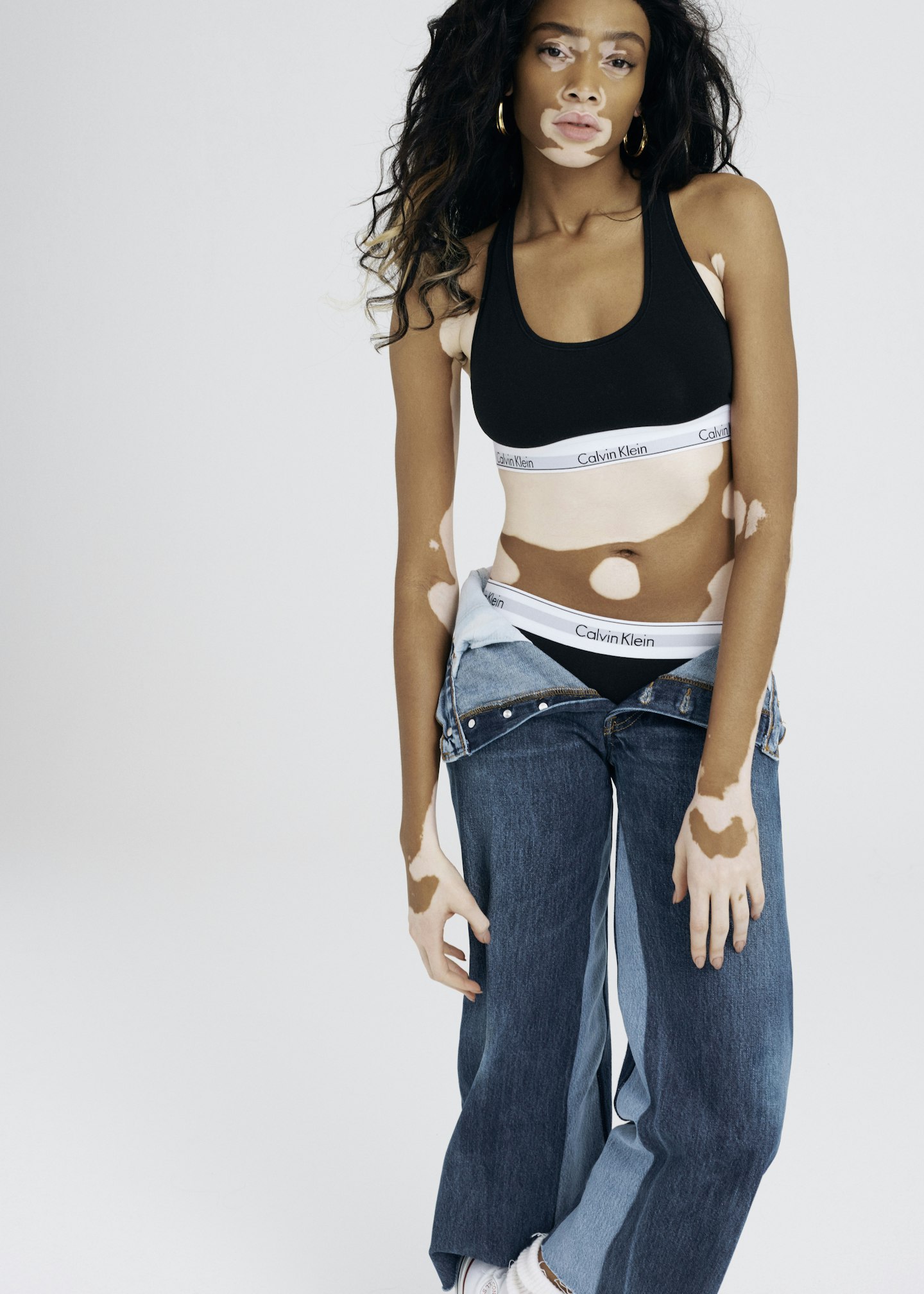 Her journey to this point hasn't been easy. Her school years saw bullying so extreme she once considered suicide. Even after transferring to an alternative school, it took years before she could work up the confidence to model.
How did she bounce back? 'The only reason I didn't like my skin is because I was told that it wasn't what's right,' she says. 'Or I was told it wasn't normal. But who's to say that? Eventually I learned that my opinion of myself matters so much more than anyone else's and I wish I'd known it earlier. One day, I just didn't give a f**k anymore.'
She started experimenting with her look, obsessing over YouTube make-up videos to find what suited her skin. (Under-eye concealer, any foundation on the white parts of her skin and too much eyeshadow are all no-gos. Eyebrow pencils are her biggest love.) One day, her close friend Shannon asked her to pose for an assignment for her photography class. 'She took it and was like, "You are editorial! You need to be on covers girl"' remembers Winnie.
It was an opinion shared by Tyra Banks who, after discovering Winnie on Instagram, put her on the reality TV show America's Next Top Model. Winnie didn't win, but has arguably had the most success of anyone who's been on the show. Legendary British fashion photographer Nick Knight is also a fan and shot her for Diesel last year. But not every experience has been positive.
'Two years ago, I did a runway for London Fashion Week,' she says. 'I was backstage afterwards and this photographer was like, "Oh my god, I have the perfect picture I want to take of you." He walked me over to this ironing board that had a cow print on it. I just looked at him like, you idiot. I turned and walked away without even giving him a response.'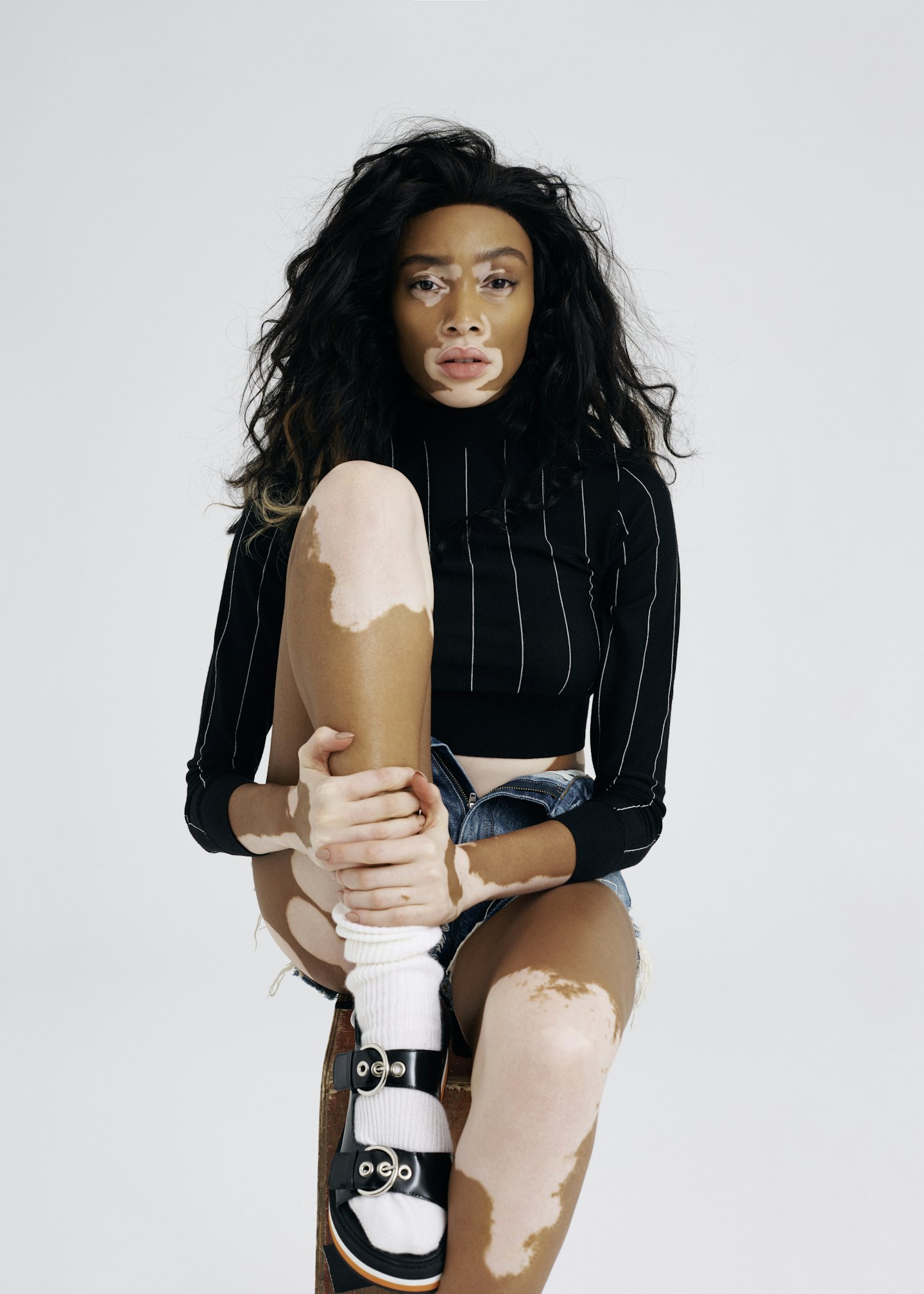 Considering bullies at school called her a cow because of her skin, how did the experience make her feel? 'I wasn't hurt, I'm so far past that now, I don't know,' she mumbles. And then she sighs: 'I am honestly so sick of talking about my skin, Literally so sick of it. I hope one day I can just stop talking about it.'
So we move on to other things, namely her rumoured relationship with Lewis Hamilton. Earlier this year she was launched into the tabloids amid reports that they had been 'secretly dating' for months. Then last week, it was even claimed that they had recorded a song together. 'Lewis and I are just friends!' she says. 'The story that we were together was so funny. It came about because we were both in London in September, then realised we were both leaving for New York Fashion Week the next day. He asked if I wanted to fly in his private jet because he's just so fabulous. The next night, we happened to be at the same party in New York. Everybody was like, "They flew from London together! And then partied all night! They're together!" But it's not true.'
She's determined that everything she has achieved so far is just the beginning. Her ultimate dream is to star in the Victoria's Secret show. But, most importantly, she wants to finally get past ger skin. 'It shouldn't be a box that people try to keep me in, but I feel like that's going to be a battle throughout my whole life,' she sighs. 'All I can do is try to fight it for the next generation. I'm the first of my kind, but one day I hope I am not the model with vitiligo. I hope I'll just be Winnie Harlow the model.'
Watch our exclusive behind the scenes video below...
READ MORE: Meet The Women Fighting Back Against Post-Referendum Hate Crimes