From a steaming bubble bath to a frothy hot chocolate, there are countless ways to make yourself feel good when the weather cools. Yet, there are few that promote health, wellness and detoxification that don't require diet restriction and a heavy-duty sweat sesh in the gym. Endorsed by Vogue as life-changing and by Jennifer Aniston and Goop (obv), infrared saunas are the piece your fitness puzzle has been missing. Credited with purifying the body, promoting weight loss (up to 600 calories a sauna we hear), supporting post-exercise muscle recovery and increasing the skin's radiance, they sound like a miracle machine. But, are they? We put it to the test.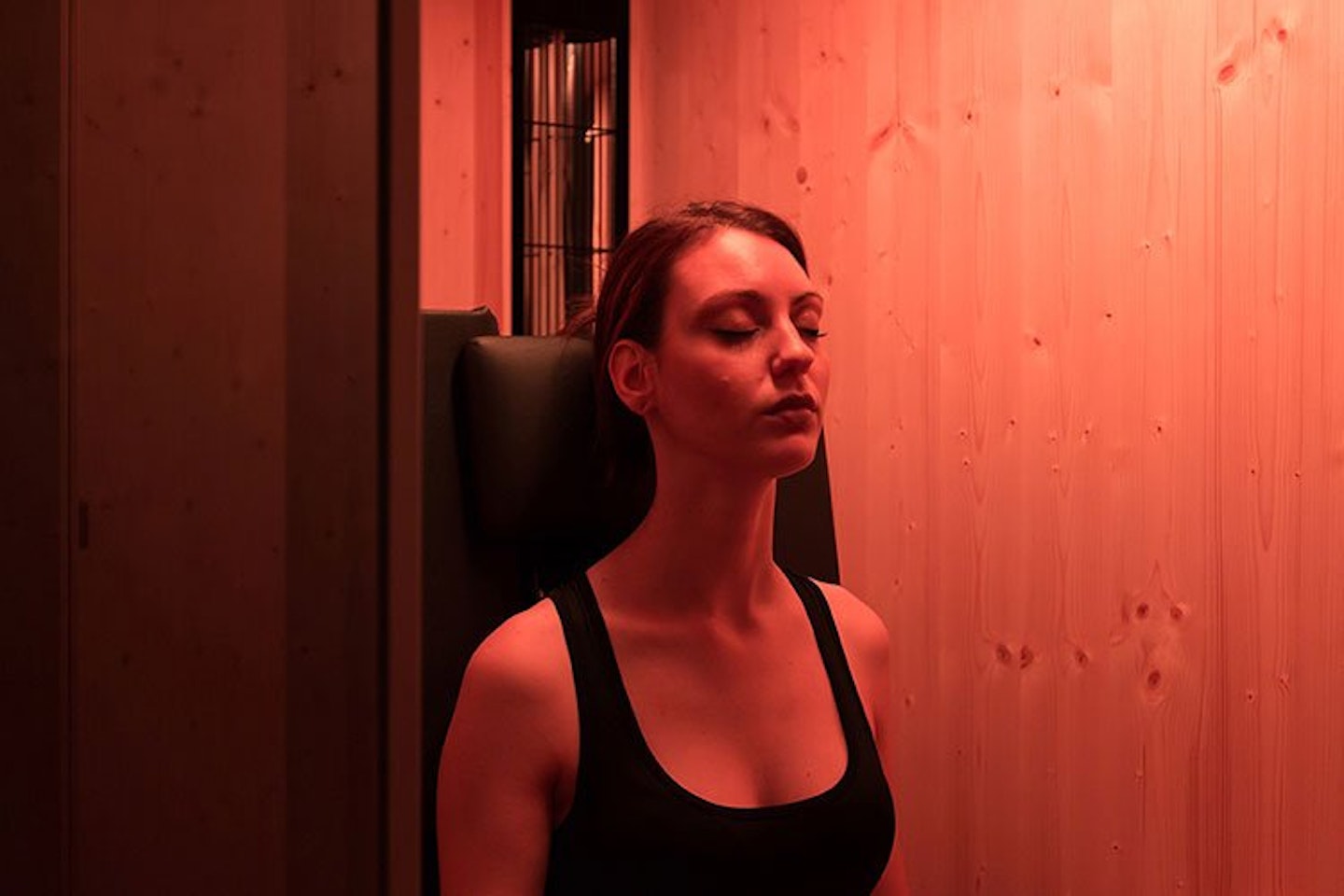 What Is An Infrared Sauna?
In an old-fashioned treatment room a moist, wet heat warms the air which opens the pores and relaxes the limbs. Unlike these traditional wood-lined rooms the air in an infrared sauna is dry, instead of targeting the air, the rays heat the skin tissue. It's been said it is more direct and efficient.
How Does An Infrared Sauna Work?
This sounds bonkers, so bear with me, it's been said that infrared saunas are effective because they trick the body into thinking it's undergoing a fever. This pushes the immune system to perform and sweat out toxins. And, as the infrared increases blood flow it can send oxygenated blood to a tired or infected area, which is perfect if you've just performed a punishing work-out.
What are the benefits?
A study researching the impact of traditional saunas found that there was a correlation between less risk of heart problems and a life longevity. Now, imagine the results with a more targeted infrared sauna. Vogue calls it 'effort-free exercise' because it encourages the metabolism to work harder, but it's also been shown to reduce pain and inflammation, support heart health and reduce stress.
What Does It Feel Like?
I tried out the sauna at swanky Chelsea gym KXU where it was a small one-person sized chamber that had space enough for a single reclining chair. A control panel on the side allowed me to change the depth of the chair, the coloured lights in the room (I went for red, but light, bright and moody, dark shades were available too), the music and heat of the infrared panels. I found myself playing a lot with the temperature as the infrared on the back of the chair felt like it was scalding my back, but as I relaxed into it was far too easy to doze off. However, I kept myself awake by reading my book - something impossible to even consider doing in a normal sweaty sauna chamber. Before I knew it, I was so zen that I'd outstayed my welcome (AKA time booked in the sauna) but nearly 15 minutes. Oops.
How Long Can You Stay In There?
As a newbie, I opted for 25 minutes, but at KXU they also offer 45-minute treatments.
Where Can I Try It Out?
KXU Gym, 241 Pavilion Rd, Chelsea, London SW1X 0BP
How Much Does It Cost?
£35 for a single 25-minute sesh.
Liked this? You might also be interested in:
How The Marques Almeida LFW Show Totally Lived Up To Expectations
All The Looks From Erdem's Show We Hope To See In Their H&M Collab
What Kate Moss And Alexa Chung's Favourite Label Thinks We'll Be Wearing Next Spring
Follow Lucy on Instagram @lucyalicemorris
This article originally appeared on The Debrief.